All-On-4 – Pearland, TX
Stabilize Your Denture with Dental Implants
Despite the latest innovations in dentistry, at least 35 million Americans have lost all their natural teeth in one or both arches. Traditionally, a denture is used to replace the missing teeth. Although they've undergone several improvements over the years, they will always have their limitations. As an alternative, you can enjoy a close replica of your natural smile with All-On-4 implants in Pearland. You'll have the stability of dental implants for a true investment in your quality of life.
How Do All-On-4 Implants Work?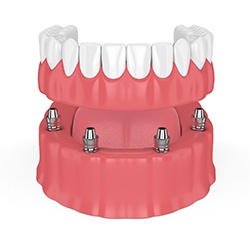 Implant-retained dentures rely on 8 to 10 strategically placed titanium posts to secure your denture to your jawbone. While this is an effective treatment, patients must have adequate bone density to support the posts. In addition, it will require a multi-phased treatment process to rebuild your smile.
You can save time and replace your missing teeth using only 4 implant posts. Although fewer dental implants are used, you'll enjoy the same advantages as a traditional implant-retained denture.
Am I a Candidate for All-On-4 Implants?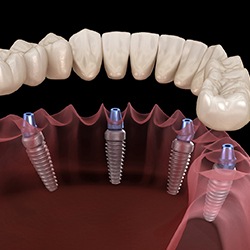 If you've lost all your teeth in one or both arches and traditional dentures didn't give you the results you had wanted, you might be a candidate for All-On-4. Generally, if you have good oral and overall health, you can stabilize your denture with dental implants. If you've lost density in your jawbone, don't worry. All-On-4 allows you to treat your tooth loss without needing bone grafting.
What are the Benefits of All-On-4 Implants?
It's true, fewer dental implants are used to support the denture, but you'll still enjoy the same advantages as the traditional methods, as well as a few others, including:
Over a 95% success rate
Looks natural to smile confidently
Regain as much as 70% of your natural biting force
Doesn't require bone grafting
Improves your oral health
Supports your facial tissues
Easy maintenance and care
Long-term, cost-effective solution
All-On-4 VS Traditional Dental Implants
Although you'll gain the same benefits as a traditional implant-retained denture, there are differences with All-On-4. Typically, you can expect it to take several months to complete the treatment process using dental implants; however, All-On-4 can replace missing teeth in a day in Pearland.
Since fewer implant posts are used, they can be placed into the thickest parts of your jaw, which means you won't need bone grafting if you've lost density. Once your posts are in place, you can be fitted with a temporary denture the same day. You won't need to wait several months for your jawbone to heal like you would with a conventional implant-retained denture.
You'll enjoy a complete smile again in just a single day. You can chew and speak confidently knowing you have the support of All-On-4. If you're ready to replace your missing teeth, contact our office today to schedule your consultation.