Dentist - Pearland, TX
Helping Pearland Residents Find New Reasons to Smile
Welcome to Eco Dental, your Pearland home for exceptional dental care. Our dedicated dentists and team members have made it our mission to give back to the communities we live and work in. There are two Houston-Area Eco Dental locations, so it's easy to get to our office from your home, school, or business. Our Pearland location is located in the Pearland Town Center, and we love being a part of this micro-community within Pearland. Keep reading to learn more about why we chose to call Pearland home to our newest dental office location. You can also call our team to learn more about the services we offer or schedule an appointment with our dedicated dentistry team.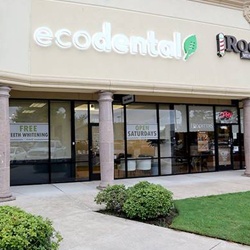 About Pearland
Part of the Houston-The Woodlands-Sugar Land Metro Area, Pearland is one the fastest growing cities in Texas and nation-wide. In the 2000 census, Pearland's population was just over 37,600. In the 2015 census, the population was 108,800 – nearly triple the 2000 population. Originally named Mark Belt when established in 1893. It was later renamed Pear-Land for the abundant fruit trees in the area. After the devastation of the Galveston Hurricanes of 1900 and 1915 followed by a late frost in 1918, most of the pear and other fruit trees were destroyed, stunting the growth of this industry and leaving Pearland at risk of becoming a ghost town. In the mid 1900s, the town served as a watering hole for the local Hastings and Manvel oil fields, cementing itself as a home for those working in surrounding industrial areas.
Beginning the 1970s, Pearland was considered a "bedroom" community for Houston. Today, Pearland continues to grow thanks to an influx of healthcare businesses, but the majority of those living in Pearland commute on a daily basis to Houston, the Texas Medical Center, NASA, and other nearby industries. Many people choose Pearland to call home because of the many amenities in the community, including numerous restaurants, shopping centers, and an excellent school system.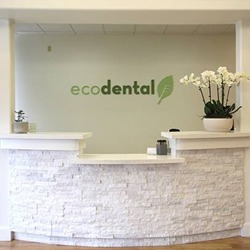 Shadow Creek Ranch
Shadow Creek Ranch is master planned community that was annexed into the city of Pearland in the late 1990s. With plans for 12,000+ homes, the vast majority of homeowners in the Shadow Creek Ranch neighborhood are employees of the Texas Medical Center.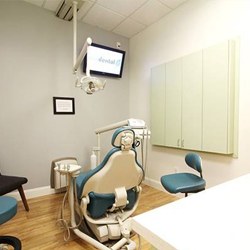 Pearland Town Center
Eco Dental is proud to be located in the Pearland Town Center. This shopping, dining, and lifestyle center offers Pearland residents access to a number of national and local retailers, and we think of ourselves as being a part of this thriving micro-community.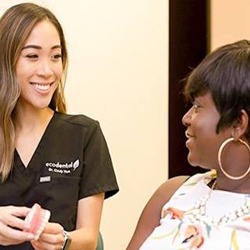 We Love Keeping Pearland Families Smiling
If you're looking for a dental office in Pearland that can accommodate the oral healthcare needs of your whole family, you've found us! At Eco Dental, we pride ourselves on offering a wide range of dentistry services for every member of the family. Some of our featured dental treatment options include:
Dental Implant supported tooth replacement plans
Botox Cosmetic and Therapeutic injections
Invisalign clear braces
Advanced gum disease treatments
Emergency dentistry services