Partial & Full Dentures - Pearland, TX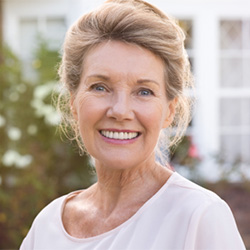 Following advanced tooth loss, your Pearland dentist and dentistry team at Eco Dental are here to help you completely recreate your smile. Call our team right away, so we can schedule your tooth replacement consultation. We look forward to helping you to recreate lost tooth structures and get back to speaking, chewing, and smiling with complete confidence in every situation. Our skilled restorative dentists and team members offer a variety of tooth replacement options that allow you to recreate your healthy tooth structures and renew the optimal level of oral health and function.
Partial Dentures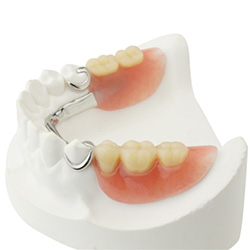 If you've lost numerous consecutive and nonconsecutive teeth, we can use partial dentures to fill the gaps in your smile. Partials are crafted to fit between remaining healthy tooth structures, snapping into place like a puzzle piece. The partial denture uses a gum colored base material to support any number of replacement teeth. Then, the entire prosthetic is anchored in place using clasps that attach to the remaining healthy tooth structures.
Full Dentures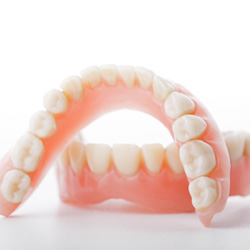 Like partials, full dentures use a gum colored base to support a full row of replacement teeth. Because there aren't any healthy teeth remaining to support the tooth replacement prosthetic, the denture will need to be crafted to fit snuggly against the gum line. This close fit between the gums and denture base creates suction that holds it in place. A properly fitted denture should function flawlessly once in place, but some patients also use a small amount of denture adhesive to improve the function of their denture. For ultimate stability, our team can offer traditional and All-on-4 implant dentures.
Your Restorative Dentistry Consultation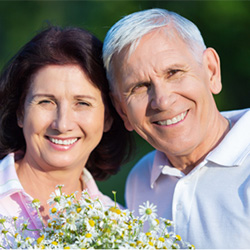 During your restorative dentistry consultation, we'll examine your smile and help you to determine what types of denture prosthetics are right for you. We offer traditional, removable partial and full dentures as well as implant supported tooth replacement options. Our skilled restorative dentist and team will help you to explore your tooth replacement options and develop a dental restoration plan to meet your unique needs.
Caring for Your Dentures
If you have a removable partial or full denture, you'll need to take them out each night to be carefully cleaned. Then, you should store your denture in cool water or cleaning solution overnight. If you have remaining healthy teeth, you should continue to brush and floss as usual. If you are fully edentulous (without teeth), you will still need to carefully clean soft tissue to remove plaque buildup. If you have an implant supported partial or full denture, you can usually brush them just like natural teeth to remove foods and plaque buildup. To reduce plaque accumulation between the teeth and denture, you may want to consider using an air or water flosser or an antimicrobial mouth rinse. During your biannual dental exams and teeth cleanings, we'll walk you through best practices in at-home hygiene.
Understanding the Cost of Dentures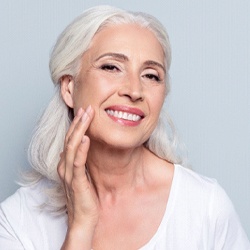 Tooth loss can devastate your self-esteem and quality of life; however, you can overcome the struggles of significant tooth loss with high-quality dentures, even if money is tight. Various factors affect the cost of dentures in Pearland, but we strive to keep them affordable for everyone. We have the personalized solutions you need to invest in a complete smile to restore your confidence, oral health, and more!
Factors That Affect the Cost of Dentures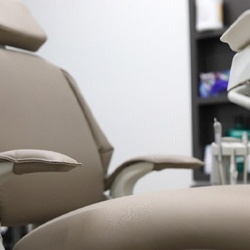 No two smiles are identical, so there's not a set fee for dentures. We wouldn't want you paying for anything you don't need. Your denture dentist will examine your mouth and learn more about your preferences to create a personalized strategy to rebuild your smile. While every plan differs, you can expect your estimate to include:
Preliminary Treatments: Some patients need a little prep work before getting their new set of teeth, like tooth extractions or gum disease treatment.
Type of Prosthetic: Depending on your severity of tooth loss, you have several options available, such as a partial, conventional denture, or implant-retained solution.
Materials: Discounted materials are cheaper upfront, but they won't last long. It's better to focus on quality instead of the price tag to ensure your investment thrives for years.
Your denture dentist in Pearland will review your estimate and the fees, so you'll know exactly what you'll have to pay before committing to anything.
Are Implant Dentures More Expensive?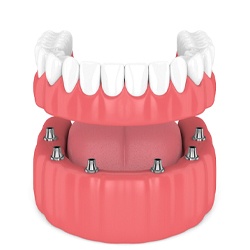 Yes, implant dentures in Pearland cost more initially, but they are the most affordable long-term because they never need to be replaced with the right maintenance. You'll save money down the road because you won't need a replacement every few years, like a traditional denture. Not to mention, an implant denture replicates the entire tooth structure to stop bone loss caused by missing teeth. You'll lessen the likeliness of needing a costly treatment later to lower your overall dental expenses. You'll invest in a lifelong solution that offers unmatched support and stability to gain the next best thing to your real teeth.
Does Dental Insurance Cover Dentures?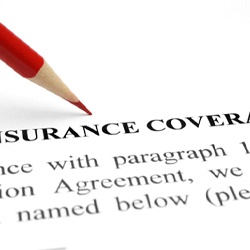 Every insurance policy differs, but most can be used to offset the cost of your treatment. Since dentures are considered a major procedure, your benefits may cover 50% of the cost. You can use your plan to lower the fees for certain steps in your plan, like the consultation, imaging, or restorations. A member of our team will work on your behalf to file the necessary forms, so you have one less thing to worry about.
Other Options for Making Dentures Affordable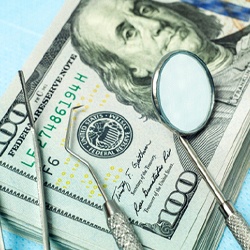 Besides your dental insurance, we offer multiple financial methods to keep a complete smile affordable, such as:
Traditional Payments: We accept all traditional payment forms, including cash, checks, and credit cards.
Third-Party Financing: Pay for your new smile using monthly installments through a third-party financing company.
Special Offers: Ask us about any current special offers.
If you have any questions about your payment options, or you're ready to schedule your consultation for dentures, contact our office today.