Partial & Full Dentures - Pearland, TX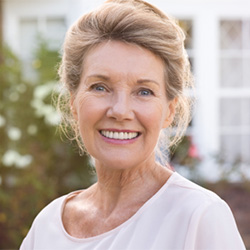 Following advanced tooth loss, your Pearland dentist and dentistry team at Eco Dental are here to help you completely recreate your smile. Call our team right away, so we can schedule your tooth replacement consultation. We look forward to helping you to recreate lost tooth structures and get back to speaking, chewing, and smiling with complete confidence in every situation. Our skilled restorative dentists and team members offer a variety of tooth replacement options that allow you to recreate your healthy tooth structures and renew the optimal level of oral health and function.
Partial Dentures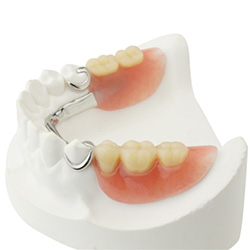 If you've lost numerous consecutive and nonconsecutive teeth, we can use partial dentures to fill the gaps in your smile. Partials are crafted to fit between remaining healthy tooth structures, snapping into place like a puzzle piece. The partial denture uses a gum colored base material to support any number of replacement teeth. Then, the entire prosthetic is anchored in place using clasps that attach to the remaining healthy tooth structures.
Full Dentures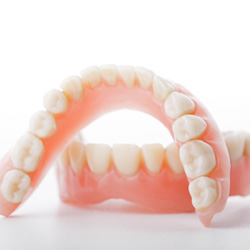 Like partials, full dentures use a gum colored base to support a full row of replacement teeth. Because there aren't any healthy teeth remaining to support the tooth replacement prosthetic, the denture will need to be crafted to fit snuggly against the gum line. This close fit between the gums and denture base creates suction that holds it in place. A properly fitted denture should function flawlessly once in place, but some patients also use a small amount of denture adhesive to improve the function of their denture. For ultimate stability, our team can offer traditional and All-on-4 implant dentures.
Your Restorative Dentistry Consultation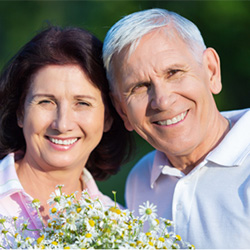 During your restorative dentistry consultation, we'll examine your smile and help you to determine what types of denture prosthetics are right for you. We offer traditional, removable partial and full dentures as well as implant supported tooth replacement options. Our skilled restorative dentist and team will help you to explore your tooth replacement options and develop a dental restoration plan to meet your unique needs.
Caring for Your Dentures
If you have a removable partial or full denture, you'll need to take them out each night to be carefully cleaned. Then, you should store your denture in cool water or cleaning solution overnight. If you have remaining healthy teeth, you should continue to brush and floss as usual. If you are fully edentulous (without teeth), you will still need to carefully clean soft tissue to remove plaque buildup. If you have an implant supported partial or full denture, you can usually brush them just like natural teeth to remove foods and plaque buildup. To reduce plaque accumulation between the teeth and denture, you may want to consider using an air or water flosser or an antimicrobial mouth rinse. During your biannual dental exams and teeth cleanings, we'll walk you through best practices in at-home hygiene.