Traditional Dental Crown & Bridge - Pearland, TX
Custom-Made Smile Solutions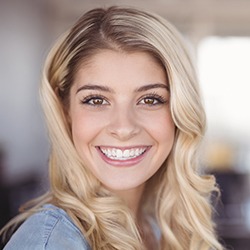 Do you have a problem tooth? Is it cracked, broken, decayed, or missing altogether? A custom-made crown or bridge from Eco Dental could be exactly what you need to enjoy your full, confident smile again. Dr. Nguyen and Dr. Hua use the most advanced technology and partner with the best local labs to create restorations that look great, feel even better, and can be trusted to stand the test of time.
What is a Dental Crown?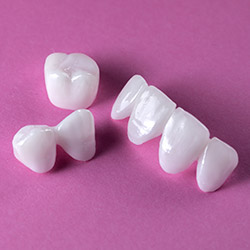 A dental crown is a tooth-shaped restoration that, as the name indicates, simply sits on top of a natural tooth. It can be designed to resemble a real tooth in every way, both aesthetically and functionally, in order to restore harmony and balance to a compromised smile.
With a dental crown, our team can:
Repair a cavity that is too large for a filling
Rebuild a broken tooth
Hold a weakened tooth together
Even out a misaligned bite
Cosmetically enhance a misshapen tooth
Replace a missing tooth using a dental implant
Dental crowns can be made of a variety of materials depending on a patient's preferences and the location of the tooth that needs to be repaired. Typically, the back teeth are topped with all-metal crowns because they need to be extremely strong, while the front teeth usually receive 100% porcelain crowns because they have a more lifelike appearance.
What is a Dental Bridge?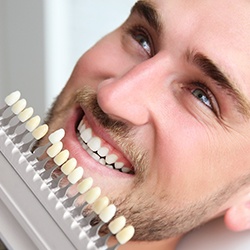 While crowns are intended to help teeth that are still present within the smile, bridges can actually fill in the gaps left by one or more missing teeth. To do this, our team places crowns on the teeth on either side of the missing ones, and these are used to support the replacement teeth that close the space.
With a well-designed bridge, we can:
Restore the appearance of the smile
Bring balance back to the bite
Protect the gums from infection
Prevent the remaining teeth from shifting into the space
Like with a crown, a bridge can be made from different materials based on a patient's specific needs. They can even be secured using dental implants if a patient doesn't have enough healthy dental structure to support a regular one.
How Much Does a Dental Crown or Bridge Cost?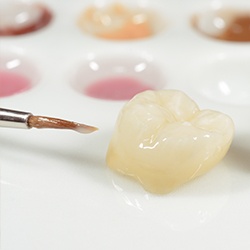 The cost of these restorations can vary depending on a few determining factors, namely what material the restoration is made out of and where in the mouth it will be located. Typically, dental insurance can be used to cover at least a portion of these procedures, often at least 50%. We can help you go over your benefits so you know exactly what you'll be expected to pay out of pocket before we begin treatment. And, if you currently do NOT have insurance, we offer flexible financing as well.
Schedule an Appointment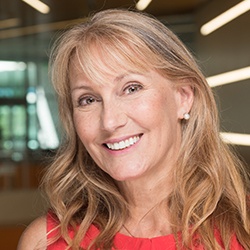 In just one or two easy appointments, we can make pretty much any dental problem disappear, leaving behind a beautiful, healthy smile you'll enjoy for years to come. To learn more about dental crowns, bridges, or to schedule a restorative appointment, contact us today.