Nightguards for Bruxism – Pearland, TX
Preventing Dental Emergencies Caused By Teeth Grinding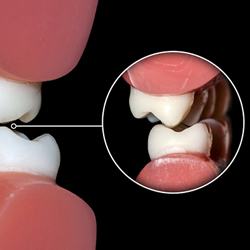 Stress, worry, and anxiety aren't uncommon to experience. Unfortunately, these feelings don't just severely impact your mental health, they also manifest into bad habits that can harm your teeth and gums, called bruxism. This condition is the nightly grinding and clenching of your teeth as you sleep. According to the American Sleep Association, it impacts about 10 percent of adults, and 15 percent of children in America. Without timely intervention, it could lead to a broken or severely damaged tooth. Instead of winding up with a dental emergency, you can protect your teeth with customized nightguards from Eco Dental.
How Can You Tell If You're Grinding Your Teeth At Night?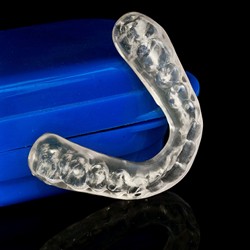 Because most people grind their teeth while they're sleeping, they don't notice the tell-tale signs of bruxism until it's too late. Unless your partner overhears you or you wake yourself while you do it, you most likely won't notice. In most cases, this condition goes undiagnosed until it causes permanent dental damage. Here are some physical signs to keep an eye out for at home:
Grinding noises.
A sore jaw when you wake up.
Pain while chewing your food.
Trouble staying asleep.
Visibly worn-down teeth.
Sensitive teeth due to eroded enamel.
A dull headache when you wake up.
What Are Customized Nightguards?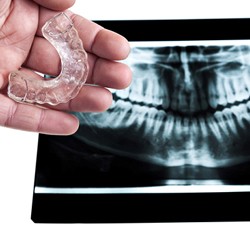 The longer that bruxism goes unaddressed, the more you're putting yourself at risk of damaging your teeth. When you visit our office for your routine checkup and cleaning, be sure to let us know if you've noticed any of the symptoms that we listed above. We'll conduct a thorough examination of your mouth and let you know if a custom-crafted nightguard that is specially fitted to your unique oral structure can benefit you.
The process of receiving your nightguard typically takes place over the course of two appointments. During your first one, we'll take impressions of your mouth that will be sent to our dental laboratory as a reference to craft your nightguard. They'll create it using high-quality materials that are durable and made to sustain regular use. When we receive your nightguard, we'll call you in to pick it up and ensure that the fit is perfect. Each night you wear it, it will cushion your muscles and teeth to prevent any jaw or face pain and preserve your tooth enamel.
What Are The Benefits Of Getting A Nightguard From A Dentist?
Many patients wonder why it's not a good idea to swing by their local department store and pick up a one-size-fits-all nightguard. Although they're more convenient to attain, they won't provide you with proper protection and comfort. In some cases, they can even damage and irritate your oral tissues. Although custom nightguards from your dentist in Pearland have a higher upfront cost, they offer countless additional benefits. Some of these include:
Maximized protection courtesy of a precise, snug, and accurate fit.
Headache prevention.
Reduced muscle tension and pain.
Protection from dental damage.
Improved sleeping patterns.
Long-term savings.
The best way to learn whether you can benefit from our customized nightguards in Pearland is to contact our office or schedule a consultation. Our team will be more than happy to discuss the process, cost, and details with you.
How Do You Clean Nightguards For Bruxism?
Because you'll be using your nightguard every day, it's important to clean it daily to prevent bacteria growth. Don't use scalding or hot water when you clean it, because it will warp the customized shape of it. Other than that, here are some recommendations we offer for daily and weekly sanitizing:
Each morning, rinse your nightguard with water and dry it before placing it in its protective hard case.
Completely submerge your nightguard in a cup of hydrogen peroxide and let it sit for a few minutes. Remove it and rinse it under lukewarm or cool water. You can also sanitize the guard with denture cleaning tablets.
Always remember to place your nightguard back in its protective, ventilated case whenever you're not using it.
With regular care and cleaning, it will continue protecting your teeth for years to come. For additional tips or recommendations, don't hesitate to ask our team when you come to pick yours up!