Dental Implants – Pearland, TX
Your Permanent Solution to Missing Teeth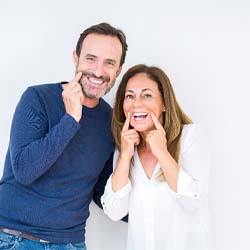 Is your life getting a little less enjoyable every day because of your missing teeth? Do they force you to limit your food choices, carefully select your words, or hesitate before smiling? If you're ready to have a complete set of teeth again, our team at Eco Dental can give it to you using the most advanced tooth replacement methods available today: dental implants. With just one treatment, we can restore your oral health, appearance, and confidence for a lifetime to come, ensuring that the last thing you ever have to worry about are the gaps in your smile. Call us today to learn how dental implants in Pearland can give you back your complete smile!
Why Choose Eco Dental Pearland for Dental Implants?
Entire Dental Implant Treatment Completed Under One Roof
CT Cone Beam Scanner Ensures Precise Results
Evening & Saturday Dental Appointment Times
What Are Dental Implants?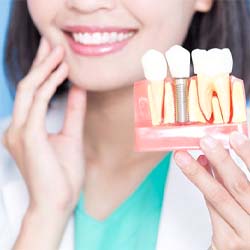 Rather than sitting on the gums like a regular denture or dental bridge, a dental implant is surgically embedded in the jawbone like the roots of a natural tooth. Made from biocompatible materials like titanium, the dental implant post encourages the jawbone tissue to grow around it until it has essentially become part of your own body. This gives the implant the strength it needs to support a dental crown, bridge, or denture and remain in place for many decades – possibly even a lifetime – to come.
The 4-Step Dental Implant Process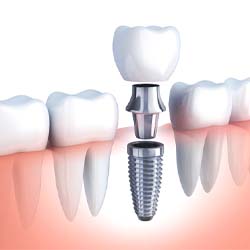 Getting dental implants is not a quick process; the complex nature of this treatment means it can take several months to a year or even longer. However, this method of tooth replacement can last for decades, so we're sure you'll find it worth the wait! Better yet, our skilled dentists can perform the surgical aspects of the procedure in-house, so you can avoid the inconvenience of visiting an unfamiliar specialist. The same team you already know and trust will be with you throughout every step of the dental implant process, which includes the initial consultation, the implant placement surgery, the healing phase, and the delivery of your replacement pearly whites.
Benefits of Dental Implants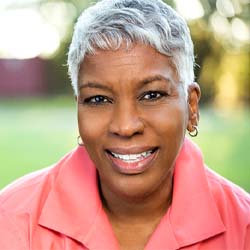 Dental implants in Pearland are the gold standard of tooth replacement — and for good reason. The dentists in our practice often recommend them as the best way to replace one tooth, a few teeth, or even an entire mouth full of teeth. Why are implants so popular, and why do they come so highly recommended? Read on below to learn more about the most outstanding benefits of dental implants and why they might be exactly what your smile needs. Then, if you would like to find out how they could help you personally, get in touch with our friendly, experienced team.
Who Dental Implants Can Help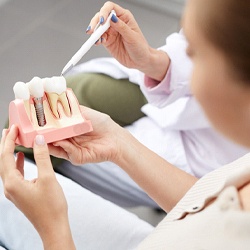 One of the best things about dental implants in Pearland is that they can address any number of missing teeth. Chances are that if you're a generally healthy adult, you'll be eligible for this versatile tooth loss solution. Of course, you'll still need to verify your candidacy with one of our dentists before beginning treatment. From there, they can draw up a unique tooth replacement plan based on your specific needs.
Understanding the Cost of Dental Implants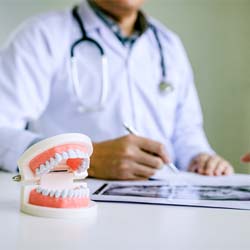 The cost of a dental implant procedure is broken down into two distinct parts: placement and restoration. Placement involves actually positioning the implant posts within the jaw, and restoration is when the new teeth are attached to them. The price of these procedures can vary quite a bit from patient to patient depending on their particular needs, namely how many teeth they want to be replaced, where they are located, and what kind of restoration they want.
Despite costing more upfront than traditional bridges and dentures, dental implants are actually a very wise investment largely due to their longevity. Normal tooth replacements typically need to be completely redone every seven to 10 years, drastically compounding their cost, while dental implants can easily last for 30 or more, helping them cost less over time. At Eco Dental, we can use insurance benefits and offer low-to-no interest financing to help offset the price of implants as well.
So, how much will it cost for you to get dental implants? To get a more definitive answer, we invite you to schedule a consultation here at Eco Dental so we can answer this question and many more.
Dental Implant FAQs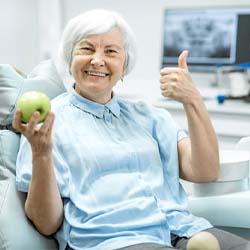 Despite advancements in dental care technology over the years, millions of Americans still lose teeth every year – whether that be due to decay, gum disease, or trauma. Fortunately, you don't have to live with having gaps in your smile. We can easily replace those missing pearly whites with dental implants. However, it helps to learn as much as you can about implants before going through with the procedure. That's why we've answered some frequently asked questions about them down below.
Maintaining & Caring for Your Dental Implants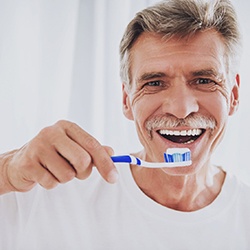 After going through the lengthy process of getting dental implants in Pearland, you naturally want them to last for as long as possible. With their high success rate, it's quite easy to help your implants last for 30+ years. They don't require a complex daily cleaning routine like dentures do, but you still need to implement a few basic habits that can keep them out of harm's way. Our team would love to give you all of the advice you may need on maintaining and caring for your dental implants, but here are the five most important tips to keep in mind.