Dental Implants – Pearland, TX
Your Permanent Solution to Missing Teeth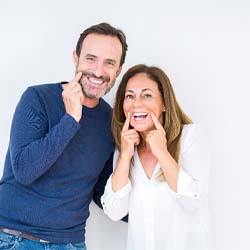 Is your life a little less enjoyable every day because of your missing teeth? Do they force you to limit your food choices, carefully select your words, or hesitate before smiling? If you're ready to have a complete set of teeth again, Eco Dental can give it to you using the most advanced tooth replacement methods available today: dental implants. With just one treatment, we can restore your oral health, appearance, and confidence for a lifetime to come, ensuring that the last thing you ever have to worry about are the gaps in your smile.
Benefits of Dental Implants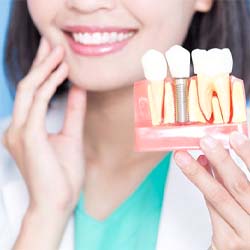 The reason dental implants are so special is because they replace the entire structure of a missing tooth both above AND below the gum line. This makes them much more stable compared to traditional bridges and dentures, and they also provide the jawbone with internal support. This prevents the bone loss that is so common after tooth loss and helps maintain the face's overall shape for years to come.
And, unlike traditional restorations, they don't put stress on the surrounding teeth and gums in order to stay in place. Because they have the same two-part structure like natural teeth, they look and feel just like real teeth as well, providing a result that is practically indistinguishable from nature.
Better yet, they are extremely reliable. Around the world, dental implants have a 95-98% success rate, and with the proper care, they can easily last for 30 years or more.
Options for Dental Implants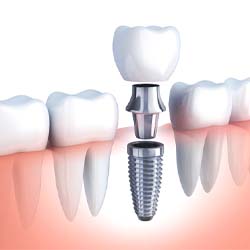 One of the best parts about dental implants is that they can be used to successfully replace any number of teeth. Whether you are missing a single, multiple, or all of your teeth, we can use implants to bring your smile back.
Missing One Tooth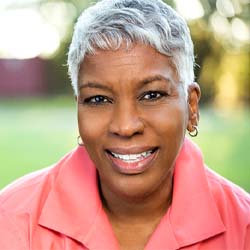 A single, all-porcelain crown can be attached directly to an implant post using a small connector called an abutment. Our dentists personally design all of our implant restorations so they seamlessly blend into a patient's smile. In the end, only you and your dentist will know that it's not real.
Missing Multiple Teeth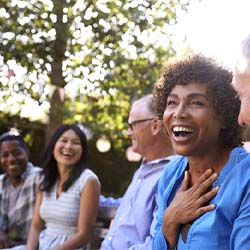 For patients dealing with multiple consecutive missing teeth, implants can be used to support a bridge as well. Two implant crowns are placed on either side of the missing ones, and these are used to support the prosthetic teeth that replace them. Unlike a regular bridge, implant bridges don't have a telltale black line near the gums that make them stick out.
Missing All of Your Teeth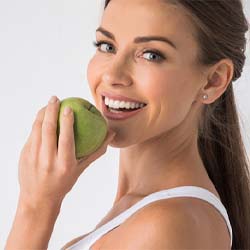 In need of a denture? Want to upgrade the one you already have? Using multiple implants, we can secure a set of teeth directly to your jawbone, giving you a denture that is much less likely to slip out of place than a traditional removable one. Implant dentures also help restore much more of a patient's bite, enabling them to enjoy a more varied and healthy diet.
Mini Dental Implants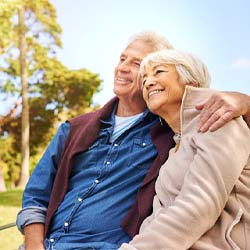 As their name indicates, mini dental implants are shorter and thinner compared to traditional ones, and this makes them ideal for patients who have a thin or brittle jawbone due to longstanding tooth loss. Despite their reduced size, they can still be used to secure a denture that has a much more stable and long-lasting fit than a traditional one. Thanks to them, now even more people can benefit from the most complete missing tooth solution available today.
All-On-4 / Teeth-in-a-Day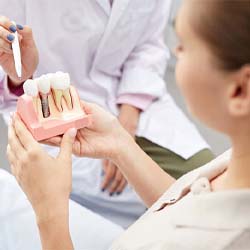 With this procedure, a patient can literally have an entire row of missing teeth replaced in just one day. Four implants are strategically placed into the jaw, and they are immediately topped with a custom-made denture. The implants are positioned in a way to provide maximum strength and security, allowing a patient to walk out of their appointment with a set of teeth they can trust. This is one of the fastest and most cost-effective ways to replace a large number of missing teeth.
Learn More on All-on-4 Dental Implants
Understanding the Cost of Dental Implants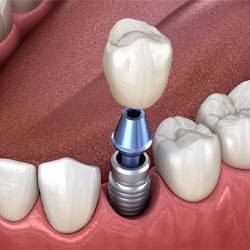 The cost of a dental implant procedure is broken down into two distinct parts: placement and restoration. Placement involves actually positioning the implant posts within the jaw, and restoration is when the new teeth are attached to them. The price of these procedures can vary quite a bit from patient to patient depending on their particular needs, namely how many teeth they want to be replaced, where they are located, and what kind of restoration they want.
Despite costing more upfront than traditional bridges and dentures, dental implants are actually a very wise investment largely due to their longevity. Normal tooth replacements typically need to be completely redone every 7-10 years, drastically compounding their cost, while dental implants can easily last for 30 or more, helping them cost less over time. At Eco Dental, we can use insurance benefits and offer low-to-no interest financing to help offset the price of implants as well.
So, how much will it cost for you to get dental implants? To get a more definitive answer, we invite you to schedule a consultation here at Eco Dental so we can answer this question and many more.
Learn More about the Cost of Dental Implants
Dental Implant FAQs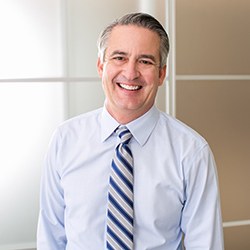 Despite advancements in dental care technology over the years, millions of Americans still lose teeth every year – whether that be due to decay, gum disease, or trauma. Fortunately, you don't have to live with having gaps in your smile. We can easily replace those missing pearly whites with dental implants. However, it helps to learn as much as you can about implants before going through with the procedure. That's why we've answered some frequently asked questions about them down below.
Does It Hurt to Get Dental Implants?
Most patients report that getting a dental implant was actually a lot less uncomfortable than they had anticipated. During the implant placement procedure, you'll be given a local anesthetic, and most likely some form of sedation as well. This ensures you shouldn't feel any pain during your procedure.
Because this is a kind of oral surgery, though, it's perfectly normal to experience some degree of swelling or soreness for the next few days. If you follow your post-op instructions and take your prescribed pain medication as needed, you should feel minimal discomfort.
How Long Does the Dental Implant Process Take?
There is no fixed amount of time it takes to get dental implants. Your timeline will depend on a few factors, such as:
Your overall oral health
How many teeth you're replacing
Which teeth need to be replaced
Whether you'll need a tooth extraction before implant placement
Generally, you'll have to wait three to six months after receiving implants before your restorations can be placed. This is when osseointegration, or the process of your implants fusing to your jawbone, occurs. If you need tooth extractions or a bone graft before getting implants, that could add a few more months of healing time. We'll provide you with a more personalized timeline at your consultation.
What Causes Implant Failure?
While dental implants have a success rate of more than 95%, there are still some circumstances which can cause your body to ultimately reject the implant. The most common reason behind implant failure is infection near the implant site. Make sure to keep your mouth clean after your surgery and take any prescribed antibiotics as directed.
Another common reason why implant fail is tobacco use, which reduces your mouth's healing process and your body's ability to fight infections. If you currently smoke or chew tobacco, we recommend quitting at least a couple of weeks before getting implants, and refraining from it during the osseointegration process. If you need help kicking the habit, just ask us for resources. We're more than happy to help you quit!
What Can I Eat After Dental Implant Surgery?
For the first two days after your surgery, stick to only soft foods, such as yogurt, mashed potatoes, and smoothies (just don't use a straw, as that could dislodge the blood clot and cause painful dry socket). On day three, eat soft foods that don't require much chewing, like macaroni and cheese. Avoid crunchy, tough, or spicy foods for the first seven days. After a week or so, you should be able to resume your normal diet.