Invisalign® - Pearland, TX
Your Clear Path to Straighter Teeth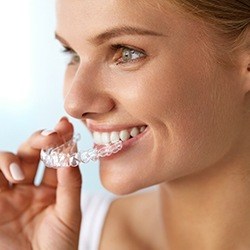 Are you self-conscious about your crooked, crowded, or oddly spaced teeth? Do you have a teenager who would literally die if you made them get the braces they so desperately need? Whichever situation sounds familiar to you, Invisalign is likely the answer. It completely turns orthodontics on its head, enabling patients to achieve straighter smiles without having to deal with the mouthful of metal.
How Does Invisalign Work?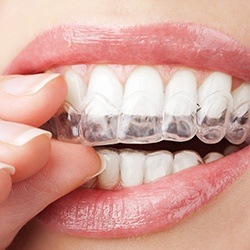 All orthodontic treatments work using the same basic principle: a gentle but consistent force is applied to the teeth over a period of time to slowly bring them into the right positions. Traditionally, this has been done with metal braces, which as we all know, are not exactly the most aesthetically-friendly treatment.
Fortunately, Invisalign completely does away with the old system, only keeping the part that's been shown to work. It uses a series of custom-made clear plastic aligner trays to move the teeth in the most discreet and comfortable way possible, helping a patient maintain their appearance and confidence during the entire process.
Why Patients Love Invisalign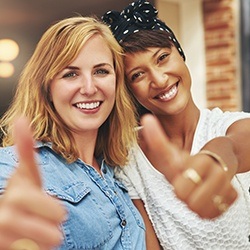 Subtle Appearance: When you're wearing the trays, no one will notice them. In fact, no one will know you're straightening your teeth until the treatment is already finished!
Comfort: Every series of Invisalign trays is specially-designed for each patient using smooth plastic, preventing the lip and gum irritation that is so common with braces.
Convenience: Unlike braces, Invisalign is easily removable, meaning a patient can simply take out their trays whenever it's time to eat or brush their teeth.
Speed: Invisalign is often able to deliver complete results in just 12-18 months, which is much shorter than the 2-3 years required for braces.
Is Invisalign Right for You?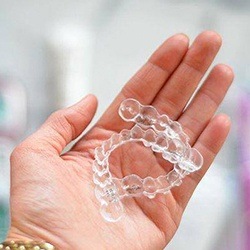 To learn more about Invisalign and see if it is the right choice for you or your child (teens only), just give our office a call to schedule a consultation. At this appointment, we'll go over what your particular treatment will be like as well as discuss your financial options so we can make sure Invisalign fits easily into your budget.
Understanding the Cost of Invisalign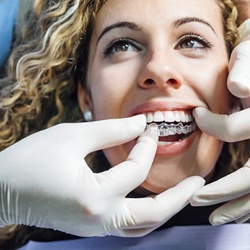 The reason we cannot provide a set price for Invisalign is that each patient is different. Because these clear aligners are capable of treating various types of orthodontic problems, there are various factors that must be considered before identifying the true cost of Invisalign in Pearland. By contacting our office to schedule a consultation with a member of our team, we will be able to examine your smile, identifying the problem area(s), and establish a treatment plan that goes over the step-by-step process, timeline, and official price tag for your new smile.
Invisalign FAQs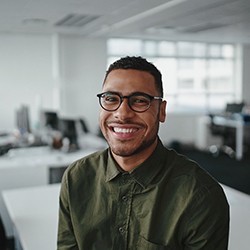 After reading all of the information above, do you still have questions about Invisalign clear aligner treatment in Pearland? Our team at Eco Dental is here to get you the answers you need, which is why we've included some of the most common questions and concerns that we receive from our patients who are considering Invisalign treatment below. If you don't see the information you're looking for, feel free to give us a call!
How long is Invisalign treatment?
While the average Invisalign treatment time is between seven and 14 months, which is shorter than traditional braces, every patient's orthodontic needs are different. Based on our examination at your initial consultation, we'll outline a customized treatment timeline for you so you know exactly how long you'll need to wear your aligners for.
How often do I need to wear my Invisalign aligners?
Many patients are drawn to Invisalign due to its flexible treatment plan. However, it's important that you still remain dedicated to wearing your aligners for at least 22 hours each day. This means that you'll only be taking them out of your mouth when you eat, drink anything besides water, or are brushing and flossing your teeth. If you forget to wear your aligners, this can set back your treatment timeline drastically, pushing back your entire timeline.
Will I have to give up certain foods while undergoing Invisalign treatment?
No! Invisalign aligners are removable, which means that all you need to do before you eat a meal or snack is take them out. Be sure to store them in their protective container when you do, so you don't accidentally end up throwing them away!
How do I take care of my aligners?
Taking care of your aligners is important throughout your treatment in order to maintain good oral health. Here are some tips that we recommend in order to keep your Invisalign trays clear and clean:
Brush your trays with a soft-bristled toothbrush and clear antibacterial soap at least twice a day.
Regularly disinfect your trays by soaking them in an Invisalign cleaning solution or a denture cleaner.
Rinse your aligners each time before you put them in your mouth.
Brush and floss your teeth after each of your meals, before you put your aligners back in your mouth.
If you have any questions or believe that one of your aligners is damaged or broken, don't hesitate to call our office!