Invisalign® - Pearland, TX
Your Clear Path to Straighter Teeth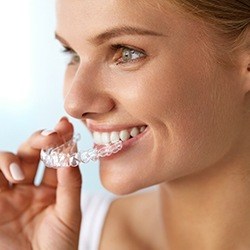 Are you self-conscious about your crooked, crowded, or oddly spaced teeth? Do you have a teenager who would literally die if you made them get the braces they so desperately need? Whichever situation sounds familiar to you, Invisalign is likely the answer. It completely turns orthodontics on its head, enabling patients to achieve straighter smiles without having to deal with the mouthful of metal.
How Does Invisalign Work?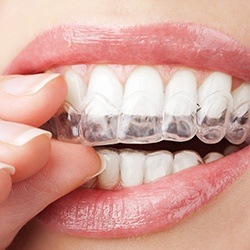 All orthodontic treatments work using the same basic principle: a gentle but consistent force is applied to the teeth over a period of time to slowly bring them into the right positions. Traditionally, this has been done with metal braces, which as we all know, are not exactly the most aesthetically-friendly treatment.
Fortunately, Invisalign completely does away with the old system, only keeping the part that's been shown to work. It uses a series of custom-made clear plastic aligner trays to move the teeth in the most discreet and comfortable way possible, helping a patient maintain their appearance and confidence during the entire process.
Why Patients Love Invisalign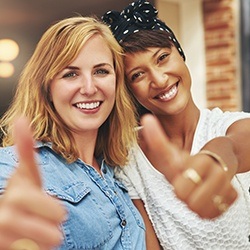 Subtle Appearance: When you're wearing the trays, no one will notice them. In fact, no one will know you're straightening your teeth until the treatment is already finished!
Comfort: Every series of Invisalign trays is specially-designed for each patient using smooth plastic, preventing the lip and gum irritation that is so common with braces.
Convenience: Unlike braces, Invisalign is easily removable, meaning a patient can simply take out their trays whenever it's time to eat or brush their teeth.
Speed: Invisalign is often able to deliver complete results in just 12-18 months, which is much shorter than the 2-3 years required for braces.
Is Invisalign Right for You?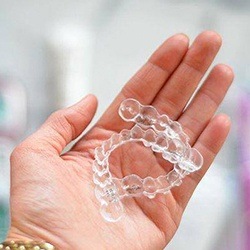 To learn more about Invisalign and see if it is the right choice for you or your child (teens only), just give our office a call to schedule a consultation. At this appointment, we'll go over what your particular treatment will be like as well as discuss your financial options so we can make sure Invisalign fits easily into your budget.