March 11, 2018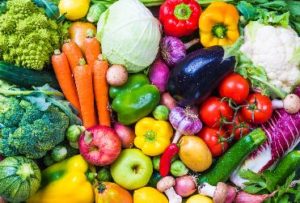 We've all heard the saying, "You are what you eat." With all of the studies that have been done in recent years about the link between good nutrition and good health, researchers have found out just how true that is.
But does it extend to your oral health as well? You bet it does! As a dentist in Pearland, we commonly talk to patients about their dietary habits because we know how much it impacts the health of their teeth and gums. Our goal is not only to help you achieve outstanding oral health, but overall health as well. Since March is National Nutrition Month, we thought we'd write a blog about this important topic, so keep reading to learn more.
How Does Your Diet Affect Your Oral Health?
When it comes to the health of your mouth, there are two main categories of health: the teeth and the gums.
For healthy teeth, our goal is to prevent cavities and keep your teeth strong. To improve gum health, we're trying to reduce bacteria and inflammation in the mouth. Both are important for having a healthy smile for life!
When combined with good hygiene habits and regular checkups and cleanings with a family dentist in Pearland, dietary changes can really reduce the amount of dental work you need over the long term.
Which Foods Should You Include in Your Diet?
Include these foods for gum health:
Shiitake Mushrooms – Throw these in salads, soups or sauces to help counteract the specific bacteria that cause gum disease.
Green Tea – This traditionally Asian type of tea has potent antioxidants that reduce inflammation, not only in the mouth but the rest of the body as well.
High-Vitamin C – Any fruits and vegetables that have a lot of vitamin C will not only reduce inflammation of your gums, but will also boost your immunity to help you fight off gum disease. Examples include berries, peppers and citrus fruits.
Include these foods to prevent cavities:
Cheese, Yogurt and Milk – Dairy products not only have calcium for strong bones and teeth, they also contain a special protein that counteracts the acids in the mouth that cause cavities.
Crunchy Fruits and Vegetables – Chewing on crunchy foods such as celery, apple and carrots has two beneficial actions: It naturally scrapes away plaque and bacteria and also stimulates salivary flow, which neutralizes acids.
Which Foods Should You Avoid?
Avoid these foods to help prevent gum disease:
Inflammatory – Reducing inflammation of the gum tissues is the name-of-the-game when it comes to the prevention and treatment of gum disease. Many processed foods have been found to cause inflammation, so try to focus on whole foods as much as possible.
Drying – Dry mouth can affect both the gums and the teeth, so minimize anything with a diuretic effect like alcohol, energy drinks and coffee.
Avoid these foods to prevent cavities:
Sugar – No surprise here! Eating any kind of sugar or carbohydrate causes acid production in the mouth that eats away at the enamel and leads to cavities. Minimizing sugars, particularly added sugars in things like soda, candies, dried fruit and juices, will really help prevent cavities in Pearland.
With a few small tweaks to your diet, you'll be on your way to a healthier smile in no time!
About the Author
Dr. Danny Nguyen and Dr. Cindy Hua are dedicated to the oral health of their patients and approach it as holistically as possible. They understand that the mouth and body are connected and always take the time to educate their patients about the importance of a healthy diet. If you have any questions, they can be reached via their website or at (713) 436-5655.
Comments Off

on A Dentist in Pearland Says a Healthy Diet Means a Healthy Mouth!
No Comments
No comments yet.
RSS feed for comments on this post.
Sorry, the comment form is closed at this time.