February 7, 2019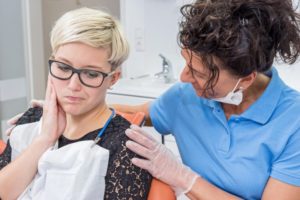 Accidents can happen to anyone, and dental emergencies can strike at any time. That's why you have an emergency dentist in Pearland available! But did you know that there are some dental emergency situations that you can actually avoid? Check out these 5 things you can do to prevent unnecessary dental emergencies. With the right prevention, you can keep your smile happy and healthy for many years to come.
Attend Your Routine Checkups and Cleanings Twice a Year
It is important to visit the dentist every six months for a checkup and cleaning. During your dental cleaning, you prevent future oral problems by getting rid of plaque buildup and bacteria that cause tooth decay and gum disease. Your dentist can also identify early signs of tooth decay and address the problem before it develops into a big one. You can save yourself a lot of pain by going to the dentist for these appointments on a regular basis.
Brush and Floss Daily
Your oral health depends on daily brushing and flossing. Think about all the spaces in between your teeth that your toothbrush's bristles can't reach. If not removed frequently, plaque and bacteria can accumulate there and cause decay and gum disease. By flossing daily, you stop these issues before they have a chance to begin.
Wear a Sports Mouth Guard
When you participate in sports, particularly contact sports, make sure you wear a mouth guard. Although you can buy one at the store, your emergency dentist in Pearland can also provide a more comfortable, fitted mouthguard.
Don't Use Your Teeth as Tools
Your teeth were meant to help you bite, chew, and speak. They are not substitutes for scissors or pliers. When you need to open plastic packaging or open a bottle, spare your teeth and take the extra time to locate the tool you need. Your teeth will thank you in the long run.
Don't Chew on Hard Things
Maybe you enjoy chewing on the ice after you finish your drink at a restaurant. Or perhaps you chew on a pen as a nervous habit. Or sometimes you can just feel impatient to eat that hard candy, so you bite into it. Well, biting these hard substances can chip away at your teeth's enamel and cause sensitivity. Or worse, they can cause your teeth to crack, allowing bacteria access to the inner layers of the tooth, where the tooth's nerves are located.
Although you may not prevent all dental emergencies, doing these 5 things can help you avoid many of them. Your oral health is worth protecting through these simple tasks that can save you stress, time, money, and pain down the road. For more information about dental emergencies and how to prevent them, you can contact your dentist in Pearland.
About the Practice
At Eco Dental, Dr. Danny Nguyen and Dr. Cindy Hua have decades of practicing experience helping patients of all ages with a wide range of dental services under one roof, including emergency dentistry. They and the staff also use products that leave little to no waste, benefitting not only their patient's smiles but the environment as well. To schedule an appointment with them, you can call (713) 436-5655 or click here.
Comments Off

on 5 Ways to Prevent Needing an Emergency Dentist in Pearland
No Comments
No comments yet.
RSS feed for comments on this post.
Sorry, the comment form is closed at this time.