September 10, 2019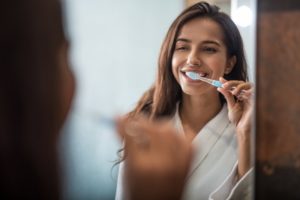 Have you ever wondered how to avoid a root canal? Knowing what signs to look out for and using the right preventive precautions can keep you from needing invasive dental treatments. For deep decay and infections, it's important to seek help from your dentist as soon as possible to avoid needing a tooth extraction. Read on to learn eight ways you can avoid root canal therapy, keep your oral health in good shape, and enjoy your natural smile for years to come.
Why Would I Need a Root Canal?
Knowing what causes the need for root canal therapy can be a great first step in developing the right preventive practices to helping you avoid it. When harmful oral bacteria accumulate because they're not being regularly brushed away, they begin releasing toxins and acid as waste. The acid causes enamel erosion, leaving your teeth vulnerable to developing cavities, and the toxins are known to cause common symptoms of early gum disease, including inflammation, swelling, and redness.
As cavities and gum disease are left untreated, harmful oral bacteria are allowed access to sensitive parts of your teeth like the inner chamber and pulp. This can result in an infection, ultimately leading to tooth loss. Root canal therapy can help save your natural tooth by removing the infection, relieving your pain, and restoring the shape and function of your damaged tooth.
8 Ways to Avoid a Root Canal
With modern dental technology, preventive treatments like root canals are virtually painless. However, it's no surprise that most people would want to avoid needing this procedure in the first place. Here are five ways you can keep your teeth healthy:
Brush twice each day for two minutes using fluoride toothpaste to remove harmful oral bacteria, plaque, and food particles.
Floss daily to remove root-damaging bacteria from your mouth.
Avoid foods that are packed full of sugar and carbohydrates. These mix with your saliva to help fuel harmful bacteria.
Avoid re-damaging teeth that are already weak by being conscious about what you eat. Be sure to avoid sticky and hard foods.
Keep bruxism under control by getting a nightguard to prevent damaging your teeth.
Avoid consuming acidic beverages that erode your enamel like citrus, soda, and energy drinks.
Seek immediate help from your dentist if you're experiencing tooth pain.
Get semi-annual checkups and cleanings with your dentist to treat the problems while they're small.
You can improve your oral hygiene routine by speaking with your dentist about products and techniques that they would recommend incorporating into your daily life. With the proper care and preventive treatment, you can avoid needing invasive treatments such as root canal therapy. However, if you learn that you need to have the pulp of your tooth removed, there's no need to worry. With today's advancements, you won't have to feel a thing. Plus, you can keep your natural tooth!
About the Author
Dr. Danny Nguyen is passionate about providing his community of Pearland with the highest quality of dental care that's also environmentally conscious. He continues his education by taking courses to sharpen his skills and stay up to date with the latest advancements in dentistry. He focuses on giving his patients the best preventive care, including routine checkups and cleanings, fillings to treat cavities, and root canal therapy. For questions or to schedule an appointment, visit Eco Dental's website or call 713-436-5655.
Comments Off

on 8 Ways to Avoid Needing a Root Canal
No Comments
No comments yet.
RSS feed for comments on this post.
Sorry, the comment form is closed at this time.