August 17, 2020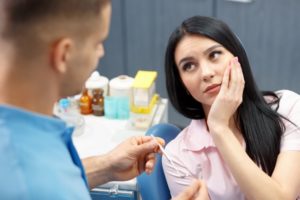 No one ever really thinks that a dental emergency will happen to them, but unfortunately, one out of every six Americans will be faced with one this year. When an emergency strikes, whether it be a sudden toothache or even a knocked-out tooth, it can be scary. The good news is that situations like these are entirely treatable. Here is your guide to what a dental emergency is and three ways your dentist might treat the problem.
What Counts as a Dental Emergency?
When you're experiencing some kind of problem in your mouth, it can be difficult to tell whether you need treatment right away or if it can wait a few days. Here are some conditions that qualify as urgent dental emergencies:
Pain. Persistent pain, especially when it's accompanied by swelling or fever, could be a sign of an infection.
Bleeding. Oral bleeding that doesn't subside on its own requires emergency care.
Injury to the mouth. Anytime you experience any kind of impact or laceration to your mouth, you should contact your dentist right away.
A loose or dislodged tooth. A shifting or knocked-out tooth is the most urgent of all dental emergencies. The longer you wait to see a dentist, the less likely your tooth can be saved.
For minor dental emergencies, such as a lost crown or filling, mild temperature sensitivity, you can usually wait a day or two to call your dentist. Just don't put it off for too long, or else the problem could worsen over time.
3 Common Dental Emergency Treatments
Here are some of the most common treatments your dentist will use to treat an emergency:
1. Filling
Sometimes a toothache can be caused by a cavity or the loss of an old filling. Using a tooth-colored composite resin material, your dentist can seamlessly address the problem.
2. Root Canal Therapy
When decay reaches the nerve in the center of the tooth, it can cause excruciating pain. At this point, your tooth will need to undergo a root canal to save it from requiring an extraction. During this painless procedure, your dentist will remove the tooth's nerve, relieving your toothache. The tooth is then restored with a permanent filling or crown to protect it from future damage.
3. Tooth Extraction
If the tooth can't be saved with root canal therapy, it must be extracted. Your dentist will do their utmost to make this procedure as smooth and painless as possible. Afterward, they can discuss your option for replacing the lost tooth.
Dental emergencies are often stressful, but there's no need to panic. Simply call your dentist and they'll take it from there.
About the Practice
At Eco Dental in Pearland, TX, we offer fast emergency dental care right when you need it. We're often able to schedule an appointment on the same day you call. Dr. Danny Nguyen and Dr. Cindy Hua have decades of combined experience, allowing them to treat a variety of emergencies. If you need dental care fast, you can contact our office at (713) 436-5655.
Comments Off

on How Will Your Dentist Treat Your Dental Emergency?
No Comments
No comments yet.
RSS feed for comments on this post.
Sorry, the comment form is closed at this time.