September 23, 2020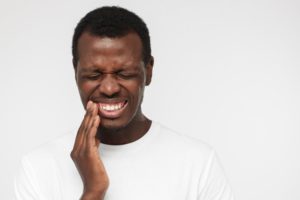 Toothaches can be a sign of a problem as small as having a lodged popcorn kernel stuck between your teeth or as serious as an infection that has burrowed its way deep inside your tooth. You may be tempted to put off receiving treatment to save money or because you don't want to have to visit your emergency dentist, but in the end, this decision could result in needing invasive treatment down the road. Read on to learn more about what can cause toothaches and what can go wrong if you put off getting it addressed.
Dental Emergencies Rarely Fix Themselves
Many people leave an issue like a severe toothache alone to see if it works itself out. However, the longer you let something progress, the worse it typically gets. It's rare, if ever the case, that a tooth infection or other dental emergency works itself out without receiving treatment. Most times, the longer you go without addressing the issue, the higher your chances are of needing invasive treatment or having something small progress into a larger problem that permanently damages your smile.
A Disappearing Toothache Could Be Bad News
In cases where the underlying problem causing your toothache is an infection, when your pain goes away it could mean that the problem just got worse than it already was. Although you may be pleasantly surprised and even relieved that your pain went away, here's what could be going on instead: a cavity has allowed harmful oral bacteria to infect the pulp inside of your tooth. This cluster of nerves and soft tissue is attacked, which causes your toothache, but after awhile, the infection destroys the pulp and causes your pain to completely disappear. If you continue putting treatment off because your pain subsided, the infection will then have a chance to spread into the bone, causing your toothache to come back again. This can lead to the destruction of the bone, soft tissues, and ligaments that support your teeth. Finally, the infection can then travel to other areas of your body, resulting in a fever.
Save Yourself From Needing Invasive Treatments
Although you may feel tempted to try and save yourself money by waiting to see if the problem works itself out, it probably won't. In that time, it will progress and put you at a higher risk of sustaining even more damage and requiring more costly treatments that aren't always entirely covered by dental insurance, like tooth extractions and restorations.
At the end of the day, the best way to address a toothache is to visit your emergency dentist. They'll examine your mouth, develop a treatment plan to solve the issue, and send you on your way knowing that your oral health is back on the right track and you won't be experiencing any additional pain.
About the Author
Dr. Cindy Hua has been practicing dentistry for close to a decade and is passionate about helping her patients feel more comfortable and confident in their smiles. She has treated countless dental emergencies and always strives to make her patients who are in shock or anxious feel at-ease. She has also completed additional training in sedation dentistry. For questions or to schedule an emergency appointment, visit Eco Dental's website or call 713-436-5655.
Comments Off

on Can a Toothache Go Away Without Treatment?
No Comments
No comments yet.
RSS feed for comments on this post.
Sorry, the comment form is closed at this time.