April 16, 2021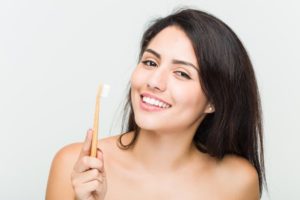 With Earth Day just around the corner on April 22nd, this is the perfect time to re-evaluate your approach to dental care, but what does the latter have in common with the environment? It turns out that using eco-friendly oral hygiene products can have a positive impact. Continue reading to learn which items contribute to a healthy and flourishing planet.
The Significance of Earth Day
In 1990, Earth Day became a worldwide celebration, a result of leaders becoming more aware of the threat of global climate change. While it may sometimes seem that you're just a minor participant in the grand scheme of things, the ideals put forth for Earth Day reflect the importance of each individual's efforts for helping to shape and maintain a healthy planet.
Thankfully, there is a role for everyone to play, even in the way oral hygiene is performed. So you can make a significant contribution, dentists have compiled a list of some of the more environmentally friendly products you can use.
Bamboo Toothbrush
With the world's population continuing to skyrocket, the number of people using plastic toothbrushes is almost unimaginable. Unfortunately, this isn't a recyclable product. That means billions of toothbrushes are being discarded annually.
A more responsible approach that can be taken is to use a bamboo toothbrush. The fast-growing grass provides a biodegradable option and is a sturdy solution for cleaning your teeth.
Eco-Friendly Floss
Flossing is an integral part of maintaining healthy teeth and gums. However, in its traditional form, the floss and container are made from plastic. Single use floss picks aren't much better, as they also can burden the environment with non-biodegradable waste.
An alternative is to purchase floss made from silk. There are even versions that are housed in glass or cardboard containers.
A Water Flosser
One way to completely eliminate any waste is to use an electric water flosser. These are handheld devices that shoot a high-powered stream of water into the mouth to remove plaque and debris from between the teeth and at the gum line.
By taking this approach, you can have the pleasure of knowing that you're protecting the environment and your oral and overall health!
Zero-Waste Mouthwash Tablets
While it should never be used as a substitute for brushing and flossing, mouthwash serves as an excellent supplement to your regular oral hygiene routine. Instead of purchasing a large plastic bottle of mouthwash, though, consider zero-waste mouthwash tablets.
The tablets are generally packaged in biodegradable glass containers. You'll simply drop a tablet into a cup of water, allow it to dissolve and rinse your mouth as you normally would.
There is no better time than right now to apply the above changes to your oral health regimen. In doing so, you can fortify your oral health and more responsibly function as a citizen of the world!
About the Author
Dr. Danny Nguyen earned his dental degree from the UT Health Science Center of Houston. Throughout a career that has spanned over 20 years, he has remained committed to providing dental care in an ethical and eco-friendly manner. Along the way, Dr. Nguyen has completed several hours of continuing education to further expand his knowledge and allow him to provide the absolute best in dental care. He treats patients at Eco Dental, and he can be reached for more information or to schedule a visit through his website.
Comments Off

on Eco-Friendly Oral Hygiene Products Perfect for Earth Day
No Comments
No comments yet.
RSS feed for comments on this post.
Sorry, the comment form is closed at this time.