May 13, 2021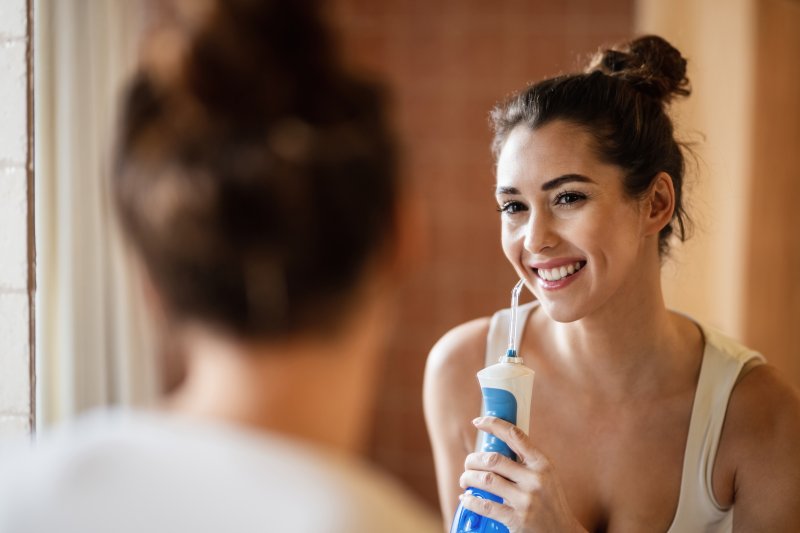 We're told our entire lives that following a good oral hygiene routine is essential to a long-lasting smile. Brushing your teeth twice a day and flossing daily are critical at-home practices to keep your oral health in shape. But for some people, this could seem like a lot of work.
Flossing is one step most people skip because it seems so harmless. More than half of Americans don't floss regularly! Luckily, water flossing is a great option for people who have trouble with the old-school technique. It's an alternative to removing plaque without the string and finger method. Read along to find out how water flossers work and how they compare to dental floss.
What Are Water Flossers?
A water flosser, also known as an oral irrigator, is a gadget that directs a stream of water into your mouth and gums. The pressure of the water massages the gums and pushes food away from the teeth. Some devices allow you to change the intensity of the water, giving you complete control so you can adjust it to your preference. Others are cordless, meaning you can take it wherever you please for ultimate convenience.
Can Water Flossing Replace Traditional Flossing?
Water flossing helps remove food particles from those hard-to-reach places your toothbrush can't get into. The American Dental Association says devices with the ADA Seal of Acceptance can get rid of plaque, the film that turns into tartar and leads to cavities and gum disease. However, studies show that water flossers are not as effective as dental floss. Thus, water flossing should not substitute brushing and string flossing, but rather be done in addition to your routine.
People with braces, delicate gums, and permanent or temporary bridges benefit the most from water flossing. In comparison to dental floss, it's an easier, much gentler, and effective solution for cleaning out bacteria from the nooks and crannies in your mouth.
How to Use a Water Flosser
Are you considering investing in a water flosser? Here's how to use one properly for maximum effect:
Fill your water flosser's tank with lukewarm water.
Place the flosser tip in your mouth and lean over your sink to avoid a mess.
Power it on and start cleaning. Hold the handle at a 90-degree angle to your teeth and spray. Water will come out in steady pulses, cleaning in between your teeth.
Start at the back of your mouth and work your way around. Aim at the top of your teeth, your gum line, and the spaces in between each tooth.
Pause briefly in between each tooth. The process should take about 2 minutes.
Once you finish, empty any remaining water from the reservoir to prevent bacteria from growing inside.
Consider incorporating water flossing into your routine if you have trouble using traditional floss. Keep in mind that it should not replace dental floss nor your toothbrush, but it is a helpful addition to keep your mouth happy and healthy.
About the Practice
Patients who come to Eco Dental Pearland experience comprehensive, world-class dental care beyond what's anywhere else. Our dental team provides a wide array of services all under one roof, ensuring your oral health needs are met in one convenient location. For us, prevention is everything. We believe at-home dental care is just as crucial as regularly seeing our dentists. We're more than happy to help you determine if a water flosser is the best choice for your needs. To consult with one of our dentists, visit our website or call (713) 436-5655.
Comments Off

on Does Water Flossing Really Work?
No Comments
No comments yet.
RSS feed for comments on this post.
Sorry, the comment form is closed at this time.