September 4, 2021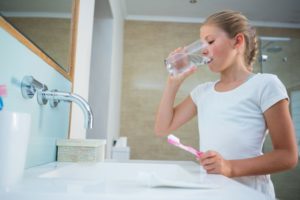 "Now THAT'S what I call high-quality H2O!" – Bobby Boucher
If you've ever seen the movie The Waterboy, you understand that Bobby had such a great appreciation for water and its many benefits. You know who he shares that appreciation with? Your dentist!
Drinking water is always good for your health, and that includes your oral health. It is such an easy way to help ensure that you pass your next dental exam with flying colors. Read on to discover the many ways hydration can be helpful in that regard!
Some Beverages Harm Your Teeth
Soda, coffee, and tea are examples of beverages that can cause plaque accumulation and then enamel erosion and gingivitis. They can also stain your teeth, but water is colorless, sugarless, and doesn't contain tannins. It may not always be practical to brush your teeth when on the move, so at least you can drink some water and swish it around. Simply by choosing water as a beverage alternative, you are engaging in cavity prevention and avoiding the threat of serious dental issues.
Drinking Water Prevents Dry Mouth and Battles Bacteria
Sure, this seems like an obvious point, but it's important, nonetheless. Saliva is 99 percent water. When you drink water, it promotes salivary flow and helps wash away the bacteria accumulating on your teeth. If you drink water while eating, it helps clean any sugars and food debris that create bacteria. Plus, it dilutes the acids that bacteria produce.
Water Prevents Bad Breath
A lack of saliva in your mouth leads to bacteria accumulation and then bad breath. That's also the reason for "morning breath." Water combats the sources of bad breath through bacteria prevention and washes away lingering food particles.
Staying Hydrated Helps Overall Health
Preventing dry mouth has already been addressed, but it also gives your body in general a boost to stay hydrated. When you feel thirsty, your body is trying to tell you it needs water. Drinking water without flavorings is the best way to get hydrated while also preserving your teeth. Staying hydrated leads to better overall health, which increases your ability to fight off infections in your mouth and everywhere else.
When it comes to quenching your thirst and doing so while benefitting the environment in your mouth, there's just no comparison to choosing water. During your next checkup, it would be interesting to ask your dentist what they think the most important benefit of water is to your oral health!
About the Practice
At Eco Dental, we like to do things a little differently, and that's why our patients in Pearland love us. Dr. Nguyen, Dr. Hua, and our team provide a comprehensive array of services under one roof to help your whole family achieve beautiful smiles. We go out of our way to practice environmentally friendly dentistry, using products that produce little-to-no waste. We are even open late during the week and available on Saturdays, so if you need a checkup, a root canal, or anything in between, visit our website or call (713) 436-5655.
Comments Off

on Why Drinking Water Often is a Big Deal for Oral Health
No Comments
No comments yet.
RSS feed for comments on this post.
Sorry, the comment form is closed at this time.