February 17, 2022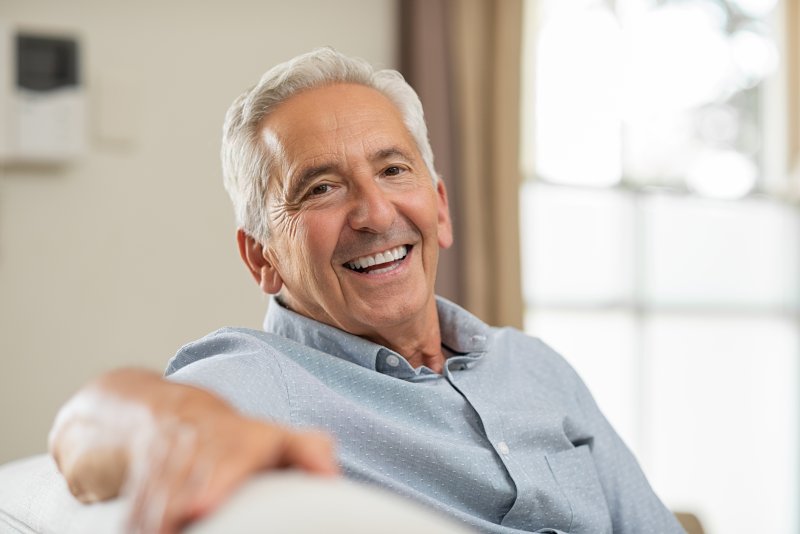 Dentures are a removable restoration that can replace several missing teeth, an entire arch, or a mouthful of pearly whites. They help you regain some of your bite power and allow you to enjoy a full, lovely smile once again. When full dentures fit as intended, your top teeth will smoothly suction to your gums, and your bottom ones will float just above them. If you wear partial dentures, there shouldn't be much movement and they should stay lined up with the natural teeth you still have. If your dentures don't fit correctly, they can cause a range of issues. Read on to learn about five problems that can be caused by ill-fitting dentures.
#1: Trouble Speaking
Ill-fitting dentures will likely be unstable. This will make it difficult to speak properly, and others may have a hard time understanding what you're saying. In some cases, this may result in them falling out or can cause you to develop a lisp.
2: Swollen Gums and Blisters
Another risk associated with ill-fitting dentures is gum swelling. This occurs when your restorations rub against your gums uncomfortably, and the extra pressure and friction created by the consistent movement may also cause blisters to form. When someone's gums are inflamed, this also makes them more susceptible to injury. Additionally, if the blisters burst, oral bacteria will be given access to the gums, which sharply raises your risk of developing gum disease. Though acute inflammation isn't an issue, chronic swelling has been linked to several health issues in other parts of the body, including:
Rheumatoid arthritis
Alzheimer's disease
Type 2 diabetes
Heart disease
Asthma
Cancer
#3: Trouble Eating
With your dentures constantly slipping in your mouth, this can make it difficult, uncomfortable, or even painful to bite and chew food. Ill-fitting dentures can also cause food to get stuck between your restorations and your gums, which gives oral bacteria plenty of time to feed on it. Those bacteria will then release acids that weaken the enamel on any remaining teeth you have and make them more susceptible to decay.
#4: Angular Cheilitis
Angular cheilitis is a bacterial infection caused by saliva pooling at the corners of your mouth. This can occur as the result of an uneven bite, so ill-fitting dentures raise your chances of developing it. Symptoms include redness, rashes, dry lips, cracking or itching at the corners of the mouth, and a burning sensation.
#5: Damage to Natural Teeth
Slipping dentures can also cause damage to your natural teeth since they rub up against them in an unnatural way. This can lead to cracks, chips, and enamel wear, all of which may make you more susceptible to decay.
As you can see, having ill-fitting dentures can affect more than just how your smile looks. Make sure to meet with your dentist to have them fixed so you can enjoy having a healthy, happy, and stable smile!
About the Practice
Led by Dr. Danny Nguyen and Dr. Cindy Hua, Eco Dental takes pride in administering exceptional oral health services to residents of Pearland, Sugar Land, and the surrounding communities. If you're missing several or all your teeth, they offer full, partial, and implant dentures to make it easier for you to eat, speak, and laugh with loved ones. If you're interested in learning more about dentures from Eco Dental or are ready to set up an appointment with their talented team, call their Pearland office at (713) 436-5655, their Sugar Land office at (281) 491-9494, or visit their website today.
Comments Off

on 5 Complications of Ill-Fitting Dentures
No Comments
No comments yet.
RSS feed for comments on this post.
Sorry, the comment form is closed at this time.