March 4, 2022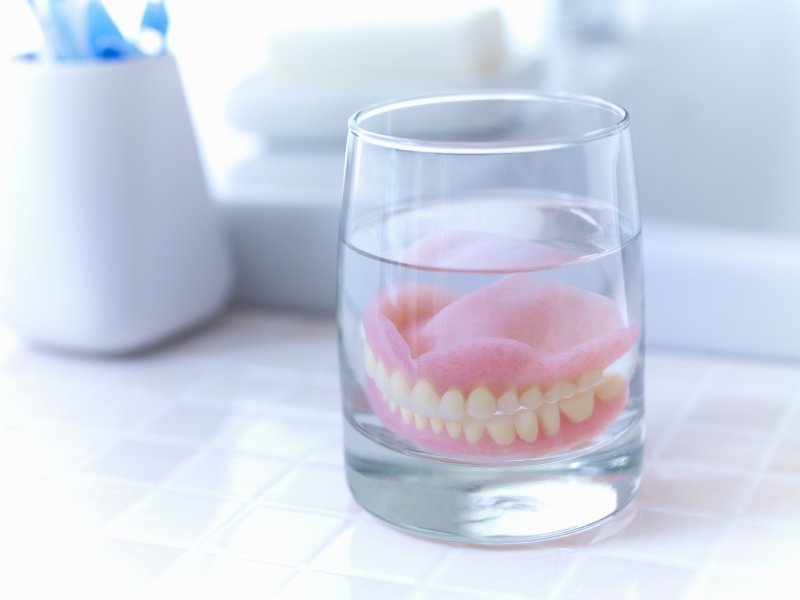 It can be difficult to complete everyday tasks when you are missing teeth. Things like eating, speaking, and smiling with confidence can become challenging. Fortunately, there are a variety of tooth replacement options available to restore the appearance and function of your smile. Dentures are a lifechanging restoration for people who are missing multiple, most of, or all of their teeth. While they will need to be relined and replaced from time to time, you can increase their life by taking the right steps to care for them. Here are some tips to help.
Rinse Dentures After Eating
When you finish a snack or meal, you should take your dentures out and rinse them with water. This will wash away food debris and other loose particles that can contribute to gum disease and bad breath. Place a towel down on your sink or counter so your dentures are less likely to become damaged if you accidentally drop them. Be careful not to bend or damage the clasps by cleaning too forcefully.
Clean Your Mouth Often
Whenever you remove your dentures, use a soft-bristled toothbrush to clean your natural teeth, tongue, cheeks, and roof of your mouth. If you use denture adhesive to keep your restoration firmly in place, be sure to remove any that's leftover on your gums.
Brush Your Dentures Every Day
Every single day, you should remove and gently brush your dentures with a soft-bristled toothbrush and nonabrasive denture cleanser. This will help to remove food, plaque, and other deposits. If you use denture adhesive, remember to thoroughly clean the groves that fit against your gums to remove any that got left behind. Never use denture cleansers in your mouth.
Soak Your Dentures at Night
It isn't a good idea to sleep with your dentures at night. Instead, take them out and place them in a mild denture-soaking solution. This will help them to stay moist and keep their shape. Always follow the manufacture's instructions when it comes to which cleaning or soaking solution you should be using.
See Your Dentist
Even if you don't have any remaining natural teeth, you should still be seeing your dentist for regular checkups. This way, you can have your dentures examined and properly cleaned. Your dentist will also check to ensure your smile is in good condition.
Dentures are an excellent solution to tooth loss, but they require special care to stay in good shape. By following the steps listed above and the instructions of your dentist, you can show off your fresh and restored smile for many years down the road!
About the Author
Dr. Danny Nguyen is an experienced dentist who has been working in the field for over two decades. He earned his Doctor of Dental Surgery degree from the UT Health Science Center of Houston and has completed numerous hours of continuing education to keep his knowledge and skills sharp. For more information on caring for dentures or to schedule an appointment at his office in Pearland, visit his website or call (713) 436-5655.
Comments Off

on How Do You Care for Dentures?
No Comments
No comments yet.
RSS feed for comments on this post.
Sorry, the comment form is closed at this time.