May 18, 2022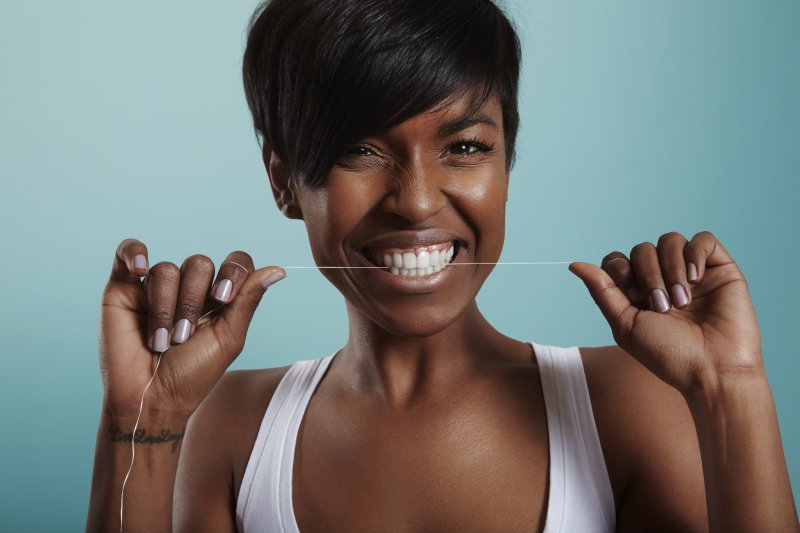 Dental implants have quickly become the gold standard of tooth replacement. With over 120 million Americans struggling with one or more missing pearly whites, these natural-looking restorations provide the best solution for rebuilding the appearance and function of a normal smile. Although they can typically last 15 years or more, part of maintaining them is cleaning between your teeth. Read on to learn about the significance of flossing with dental implants and the proper way to do it!
The Importance of Flossing with Dental Implants
While brushing is an essential part of oral hygiene, this alone won't be able to address all the surfaces of your smile. For this reason, you'll need to floss in the spaces between your teeth, as this is where bacteria, plaque, and tartar are most likely to accumulate over time. If left unchecked, this can cause minor decay or even severe periodontal disease. Since these complications can be detrimental to the success of your dental implants, it's highly important to floss around your teeth and gums to prevent any harmful particles from developing complications later on.
How to Floss with Dental Implants Properly
Your dental implants will be designed to look and feel like your natural teeth. This means you'll be able to eat your favorite foods comfortably and they won't require any special techniques to clean them. However, you can expect certain differences when flossing your restorations. Normally, you'll have a periodontal ligament that'll indicate if you've pushed the thread against your gums too excessively. With dental implants, the peri-implant seal they're attached to won't contain these same nerves. That's why you'll need to be careful and gentle when flossing your restorations to avoid damaging your oral tissue.
6 Additional Dental Care Tips to Preserve Your Smile
Once you've received your dental implants, your dentist will be able to walk you through flossing them properly so that you keep yourself healthy and safe. You'll also want to practice the following step to maintain your restored smile:
Brush your teeth at least twice daily with a soft-bristled toothbrush
Drink plenty of water
Avoid using tobacco products
Reduce how often you consume sugary items (like candy and soda)
Stick to a nutrient-rich diet
Schedule checkups and cleanings with your dentist regularly twice a year
By implementing these few tips and flossing correctly, you can be sure to maintain your restored biting power and a more youthful facial structure. Speak with your dentist if you have any concerns along the way, and they'll be more than happy to help you make the most of your new smile!
About the Author
Dr. Danny Nguyen studied at the University of Texas Health Science Center of Houston and has provided excellent care for over two decades. He also regularly seeks advanced training to expand his skills so that his patients receive the best treatments they deserve. He offers multiple high-quality services, including dental implants and dental checkups/cleanings. If you'd like to request an appointment, feel free to visit our website or call 713-436-5655.
Comments Off

on How to Floss with Dental Implants the Right Way
No Comments
No comments yet.
RSS feed for comments on this post.
Sorry, the comment form is closed at this time.