June 6, 2022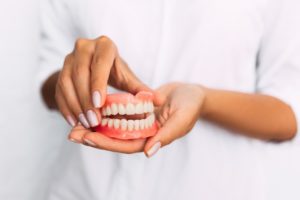 Dentures are a great option to replace your lost teeth, but they can affect your nutrition if you don't maintain a balanced diet. Despite continual advancements in dentistry, 36 million Americans don't have any teeth. Dentures are the most traditional method to restore a complete, beautiful smile. They've been used for generations to mimic real teeth. Although they closely look and feel natural, dentures can affect your nutrition if you aren't careful. Here's what you need to know to maintain a balanced diet.
Traditional Dentures Affect Biting Force
Traditional dentures rest on top of your gums and are held in place with suction or an adhesive. Your denture is custom-made to fit your mouth like a glove. With regular maintenance, your denture can continue to serve you for many years. Although they are effective in replacing the surfaces of your teeth above the gums, they don't replicate the roots. As a result, your jawbone will deteriorate slowly, but that's not the only concern.
Dentures are designed to divert pressure to the back teeth, which are similar to animals that only eat plants. However, many humans are meat-eaters. Your natural teeth ensure you're able to grind and tear through foods. Dentures aren't able to recreate your natural chewing force. It's not unusual for denture wearers to eliminate meat from their diet because it's too difficult to chew. Unfortunately, eliminating meat can deplete your body of vital nutrients.
Besides the dietary limitations, chewing is the first step of the digestive process. Chewing and an enzyme from the salivary glands break down food. If you don't chew your food enough, it's difficult for your stomach acids to process them. Denture wearers often swallow larger pieces of food to reduce chewing, which can affect the body's ability to absorb nutrients from your meal.
Maintaining a Balanced Diet
You can ensure your dentures don't affect your general wellness by having chewy meats in moderation and maintaining a balanced diet. Cut your foods into small pieces to make them easier to chew. You'll ensure they are well processed by your mouth to absorb the most nutrients without making your mouth sore.
Besides eating a nutritious diet, it's important to care for your dentures correctly to promote the best fit. Brush your dentures with a soft-bristled toothbrush and nonabrasive toothpaste at least once a day and soak them in an overnight cleaning solution. Visit your dentist regularly for checkups and adjustments to get the most from your denture.
If you are interested in an option that more closely mimics your natural smile, ask your dentist about adding the support of dental implants to your denture. They replace both the roots and crowns to preserve your jawbone and restore 70% of your chewing force. You'll never have to worry about slipping or irritation while enjoying a solution that can last for decades.
About Dr. Danny Nguyen
Dr. Nguyen earned his dental degree from the UT Health Science Center of Houston and regularly continues his education in advanced specialties, like orthodontics and dentures. If you are ready to replace your lost teeth, contact our office today to schedule your denture consultation.
Comments Off

on Can Dentures Affect Your Nutrition?
No Comments
No comments yet.
RSS feed for comments on this post.
Sorry, the comment form is closed at this time.