June 17, 2022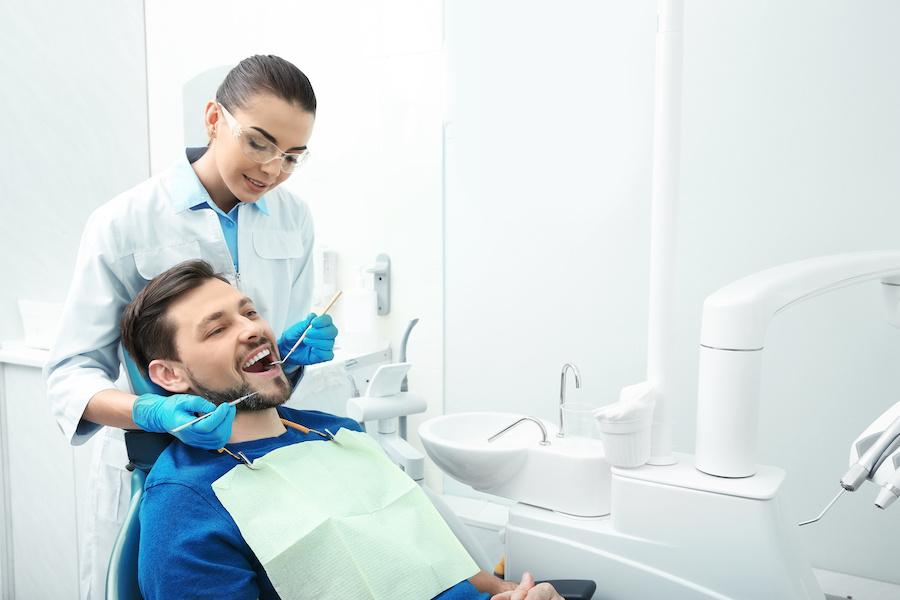 Dental implants are an investment in your smile – and they're actually the best choice you can make for tooth replacement. There are a number of benefits to this option, not the least of which is they don't stain like your natural teeth. That means you can say goodbye to white strips and bleaching toothpastes. 
Even though dental implants won't get yellow like you typically think of, you still need to practice good dental hygiene to keep them healthy, strong, and beautiful. Keep reading to learn more about this tooth replacement option and how you can keep yours looking fantastic for the long-haul.
What Dental Implants Are Made Of
A dental implant is a tiny titanium post that is implanted into the area where a missing tooth's root structure once was. Here, the post grows together with the jaw bone in a process known as osseointegration.
Once healing is complete, the dental implant is restored with a permanent crown or denture that is made out of high-quality porcelain. This material is physically strong and highly resistant to staining – which is the magic that helps keep your restored teeth pearly white for years to come.
Where Discoloration Can Occur
Even if the replacement teeth cannot become stained, the bonding material that secures the crown or denture to the dental implant can. If you start to notice discoloration between the tooth and the gum line, schedule an appointment with your dentist. A simple cleaning and polish will bring the area back to its beautiful white shade.
How to Care for Your Dental Implants at Home
Taking care of your replacement teeth is as important as it was before. Follow these guidelines to keep your dental implants strong and healthy for years to come:
Avoid tobacco use. Aside from exposing your new teeth as well as any remaining natural teeth to smoke and tar, tobacco restricts blood flow to the gums, which will put your dental implant(s) at risk of failing.
Avoid damaging the outer layer of your dental implants. Brush with toothpaste that has been approved by the ADA, as this will indicate that it is not too harsh and is safe for use with natural teeth as well as dental implants. Additionally, use a soft toothbrush and brush in gentle, circular motions.
Brush and rinse your mouth after each meal to remove any food particles that may have been left behind. Additionally, floss between teeth at least daily.
Keeping these steps in mind will help you enjoy your sturdy tooth replacement for a lifetime. But, if you do notice discoloration or if another concern arises, don't hesitate to reach out to your dentist for help!
Meet the Dentist
Dr. Danny Nguyen and Dr. Cindy Hua have decades of combined experience practicing dentistry and they are passionate about helping patients of all ages achieve healthy, beautiful smiles. They are highly trained and frequently partner with people needing tooth replacement — and they love answering all of their patients' questions, like "Do dental implants stain". To learn more about this option or to schedule a consultation to find out if you are a candidate, visit Eco Dental's website or call 713-436-5655.
Comments Off

on Why You Don't Have to Worry about Dental Implants Staining
No Comments
No comments yet.
RSS feed for comments on this post.
Sorry, the comment form is closed at this time.