July 5, 2022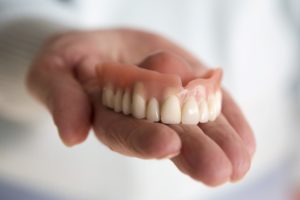 Your tongue is covered in thousands of little taste buds that allow you to savor your favorite flavors. However, tooth loss can affect your diet because many foods become too difficult to eat. Dentures are a tried and proven method of treating missing teeth, allowing you to enjoy a wide variety of foods. Unfortunately, dentures have a reputation for affecting your sense of taste. Here's what you need to know about dentures and taste loss.
Taste Decreases with Age
You might expect a few gray hairs or wrinkles as you age, but you may not have expected your quality of taste to decrease. Over the years, it is natural for your sense of smell and taste to diminish. Research has found that flavor sensitivity is 49 times lower for elderly patients. When combined with a denture, many people are worried about losing their taste altogether.
A denture is created from an impression of your mouth to rest on top of your gum tissue. It's normal to have concerns about an upper denture changing the way food tastes because it covers the roof of your mouth, but there's nothing to fear.
Preventing Taste Loss with Dentures
Dentures come in many styles, like palate-less options, which can be perfect if you're concerned about it covering the top of your mouth. You can choose from a denture that has a horseshoe shape, like one used for the lower arch or along with dental implants.
Besides choosing the right denture, you can preserve your taste quality by maintaining your new set of teeth by keeping them clean. Food particles and plaque can accumulate on your denture, which can affect your taste. Clean your denture daily and use an overnight soaking solution to prevent foul tastes and odors.
It's also important to visit your dentist regularly. They'll check your denture at each appointment to ensure it continues to fit well. If you have any slipping or irritation, denture adhesives can hold your teeth in place; however, you can have a lingering metallic taste in your mouth. Visiting your dentist regularly for adjustments will keep your dentures in place, so you won't have to rely on an adhesive.
You can also ask your dentist about adding the support of dental implants to your smile. Implant posts are surgically placed into the jawbone to serve as tooth roots. Your jaw will fuse to them to provide unmatched support and stability for your new teeth. Not only will you regain up to 70% of your biting force, but you won't have to worry about your denture covering the roof of your mouth.
With the right denture, you can enjoy every bite of your favorite snacks and meals. You can complete your smile without compromising your sense of taste.
About Dr. Cindy Hua
Dr. Hua earned her dental degree from Nova Southeastern University and continued her education in sedation dentistry. She strives to keep each patient comfortable while achieving their best smiles. If you are ready to replace your missing teeth, contact our office today to request your consultation.
Comments Off

on Can Dentures Diminish Taste?
No Comments
No comments yet.
RSS feed for comments on this post.
Sorry, the comment form is closed at this time.