September 15, 2022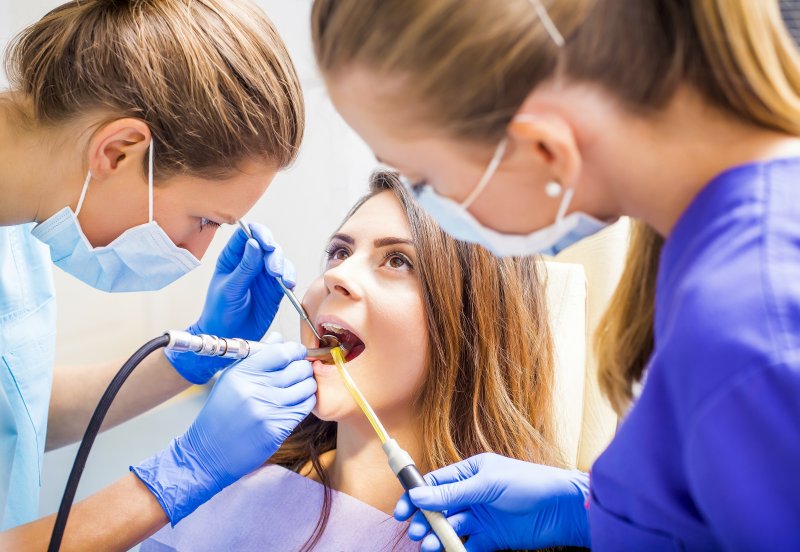 If one of your dental fillings falls out of your mouth, you might feel scared. In fact, it wouldn't be surprising if you wanted just to panic. However, it's important that you calm yourself and work to protect the affected tooth. In particular, you'll want to take the proper steps as soon as possible. As for what those steps are, your local dental practice has you covered. Here's a summary of four things you should do to handle your lost dental filling.
1. Call Your Dentist
First things first: Go ahead and call your Pearland dentist. Tell them what happened to the filling, any symptoms, and if you're in pain. Furthermore, book a visit with their office at the earliest availability. A lost filling can result in more decay and damage if left untreated. Plus, an earlier visit means you can have the filling reattached or replaced sooner.
2. Clean the Affected Area
Before you see your dentist, you'll need to clean the affected area, remove food debris from it, and soothe any related soreness. One way to do so is by rinsing your mouth with warm saltwater. Add ½ teaspoon salt to a cup of warm water to make the mixture.
In some cases, you could also brush the area gently with a toothbrush.
3. Stay Safe and Pain-Free
A tooth that's lost its filling is often more sensitive than usual. That said, you'll want to be careful not to damage it further. For instance, don't chew around the location of the exposed tooth. You'd otherwise cause further pain and risk the pearly white's structure.
If necessary, you could also take an OTC pain reliever for any pain you have. Use what works best for you and follow the dosage instructions on the label.
4. Try a Temporary Filler
When you have a lost dental filling, your tooth will become exposed and vulnerable. Assuming you want to avoid infection, therefore, do what you can to limit this exposure.
For example, use dental wax or temporary filling material to protect the exposed tooth. Just keep in mind, though, that this is a short-term solution. It's essential to get the filling repaired by your dentist.
By following the steps above, your tooth will stay safe until you receive treatment. So, what are you waiting for? Go ahead and use them!
About the Practice
Eco Dental is based in Pearland, TX. As led by Drs. Danny Nguyen and Cindy Hua, our practice offers great dental care in a relaxing environment. To that end, we provide patients with high-quality preventive, cosmetic, and restorative dentistry. Our office is also equipped to perform periodontal and TMJ therapies! For more information or to book an appointment, you can reach us on our website or by phone at (713)-436-5655.
Comments Off

on 4 Key Steps for Handling a Lost Dental Filling
No Comments
No comments yet.
RSS feed for comments on this post.
Sorry, the comment form is closed at this time.