October 14, 2022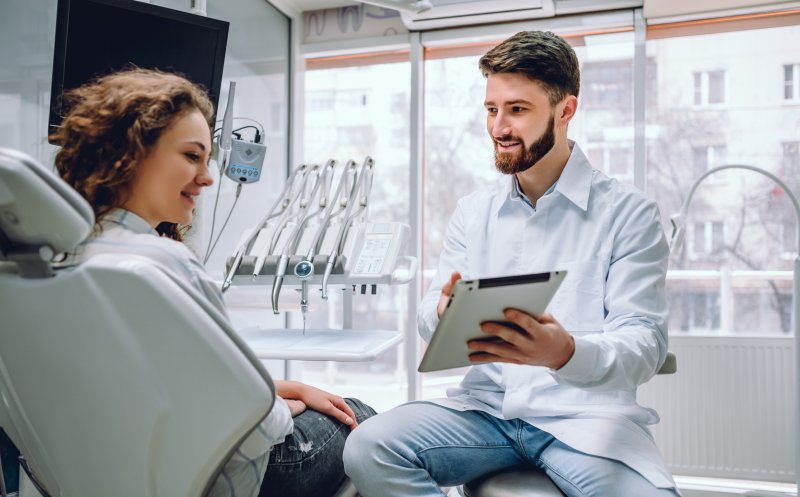 So, you've decided to get porcelain veneers for your teeth. You're probably feeling pretty excited! After all, the procedure's ceramic layers will cover your dental flaws and make your smile beautiful. Still, you'll have to be patient — you need to wear short-term versions before you can get the final ones. As for why that's the case, your Pearland dentist is here to give you some answers. Read on to learn why temporary veneers are essential to your overall treatment.
What Are Temporary Veneers?
As you might know, veneer placement takes two dental visits. The first one prepares your teeth, thus ensuring the final products fit and stick correctly. The second, in contrast, places the permanent veneers once a dental lab finishes making them.
Temporary veneers are those worn between the two visits, usually over two weeks. They're often made of acrylic or composite resin, though some are essentially wax mock-ups.
Why Do You Need to Wear Them?
Contrary to what you might think, wearing temporary veneers provides a few benefits. These include the following:
A "Trial Run" of Your Final Results – Short-term veneers give you a sense of your final smile. That way, your dentist can make changes such that the permanent ones meet your preferences.
A Phonetic Check – If the temporary veneers get in the way of your speaking, your dental practice can adjust them before you get the final products. As a result, the dental lab wouldn't need to re-make the latter from the ground up.
Tooth Sensitivity – Removing a thin layer of enamel can cause tooth sensitivity. Luckily, temporary veneers can shield the area and keep teeth from reacting to hot, cold, sweet, or acidic foods.
How Will They Feel on Your Teeth?
In general, temporary veneers add some thickness to your teeth. As a result, they may cause some discomfort when you chew, not to mention some speech alterations. Fortunately, these effects will fade within a few days as you adjust to the veneers.
Due to the possible pain, you should avoid hard, sticky, and chewy foods while wearing temporary veneers. It'd also be a good idea not to eat anything with color additives — these would stain the teeth.
If a temporary veneer falls off, see your dentist to get it reapplied. Otherwise, you risk exposing the underlying tooth to bacteria and sensitivity.
In the end, temporary veneers do more than you might think at first. Therefore, trust that they'll help your smile while waiting for your final results.
About the Practice
Eco Dental is based in Pearland, TX. As led by Drs. Danny Nguyen and Cindy Hua, our practice offers great dental care in a relaxing environment. To that end, we provide patients with high-quality preventive, cosmetic, and restorative dentistry. Our office is also equipped to perform periodontal and TMJ therapies! For more information or to book an appointment, you can reach us on our website or by phone at (713)-436-5655.
Comments Off

on Do You Really Need to Wear Temporary Veneers?
No Comments
No comments yet.
RSS feed for comments on this post.
Sorry, the comment form is closed at this time.